Halloween is upon us, and although social distancing and the new normal might change the Halloween traditions to a certain extent, our reading of spooky books or watching scary movies can definitely stay with us. With that in mind here is my 2021 Halloween recommendations to satisfy the craving to be spooked. Most of the books were published last year and are outstanding additions to the Halloween reads.
Crankenstein was first published in 2013 as "A whimsical tribute to crankiness and how to cure it", next came A Crankenstein Valentine, and in 2021 we have Trick or treat, Crankenstein. Crankenstein's favorite day of all is Halloween, but this year everything seems to go wrong!! His mouth hurts so he can't eat his favorite cereal, he gets lost in a corn maze, his costume is ruined in the rain, he's scared by a big spider, his pumpkin carving doesn't go the way he'd planned, to name just a few. Can Halloween be saved, or will today turn into the crankiest Halloween in history?
A great read-aloud story for kids who have felt like everything goes wrong in their day. Holidays often have such a buildup of expectation and emotion, and here kids see that even when things start out wrong in the morning and it's hard to turn things around, a day and a mood can improve with help of friends (or family). With their characteristic style, teaching empathy with humor, Samantha Berger and Dan Santat communicates the important message that cranky days happen – and our friends and family will be there to support us.
Published in 2021, ISBN13: 9780316458092 is definitely a good choice for all the Crankensteins we meet.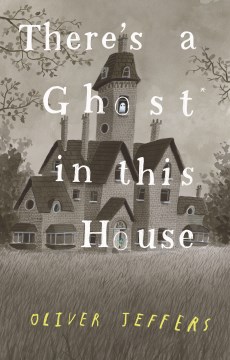 I admire the way Oliver Jeffers captures the imagination of children and his latest picture book, There's a ghost in this house, is no exception.This is a stunning and unique interactive picture book, that children will be bewitched by not only during Halloween but throughout the year.
A young girl, the main character, lives in a haunted house, and keeps looking for the ghost she never finds.The reader, on the other hand, can look at places in the image where they think ghosts might be hiding, before turning the overlay and discovering their hiding spots. What an original interactive reading experience, with young readers wanting to call out "they're BEHIND you" as the character searches high and low for ghosts.
Perfect for Halloween! Published in 2021,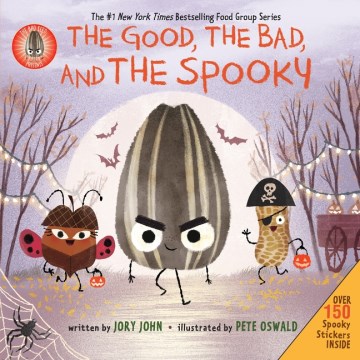 In the first of the series by Jory John, illustrated by Pete Oswald we are introduced to The Bad Seed who has a bad temper, bad manners, and a bad attitude. He is A baaaaaaaaaad seed but eventually proves that positive change is possible for each and every one of us. After a few more episodes The Bad Seed is back in time for Halloween as The good, the bad and the spooky.
With Jory John's delightful text and Pete Oswald's cute illustrations we meet The Bad seed in a bad mood again, as he can't stop stressing over how important it is for him to have the best Halloween costume. Every year his friends and neighbors have costumes that way outdo his. This year he is bent to spoil the Halloween fun by claiming that a thunderstorm and a pack of seed-eating squirrels are on the way. A kind neighbor intervenes and he realizes what Halloween is all about. It is not the best costume, it is all about the fun and togetherness.
Perfect for all Bad Seed lovers, published in 2021, ISBN-13: 9780062954541
The Dracula family are vampires who are making a trip to the zoo, awaken "extra early so they could beat the weekend crowds" . Adventure begins when baby Dracula slips into the Penguin House while baby Penguin waddles into the stroller to explore the rest of the zoo. Dracula family has not noticed the switch…….
The illustrations carry the story as much as the text. Little readers will love pointing out all of the things the text intentionally omits, like the animals that notice the penguin touring around in the Draculas' stroller.
Vampenguin by Lucy Ruth Cummins is a funny, non-scary monster book to read and enjoy during Halloween for Preschoolers and Early Elementary children. Published in 2021, ISBN13: 9781534466982
House has a problem. She's a little spooky. She's a little cobwebby. Oh, no! What if she's haunted?
How will House ever find a family that doesn't mind being haunted?
A charming book with limited words, sound effects on each page and amazing illustrations, that tells the story of a house with a problem on the hills – she thinks she might be haunted as no one makes it their home. She's not sure, but…her hinges creak. Her pipes bang. And on windy days, the branches scritch-scratch at her windows. She tries to hold her breath and be as still as possible. If she's on her best behavior, maybe a family will move in. When that day arrives, the haunted house knows that her new family accepts her for who she is.
Jessie Sima in Hardly Haunted, has come up with a book that could be listed as a just-right book for Halloween read aloud for children ages 5 -8. ISBN-13: 978-1-53444-170-5, Published in 2021.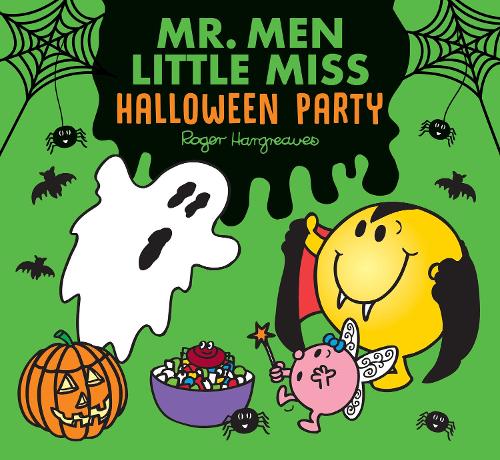 Mr Happy is having a fancy dress Halloween party with spooky decorations, ghoulishly good treats and creepy costumes! Mr Happy is a vampire, Little Miss Magic is a witch, but who is the mysterious ghost?
Mr. Men Little Miss Halloween Party will not disappoint Roger Hargreaves's fans of Mr. Men books this Halloween season ISBN-13: 9781405296632, Published in 2020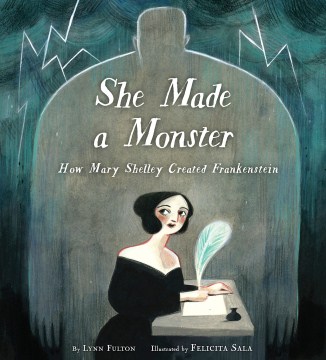 From the publisher : On a stormy night two hundred years ago, a young woman sat in a dark house and dreamed of her life as a writer. She longed to follow the path her own mother, Mary Wollstonecraft, had started down, but young Mary Shelley had yet to be inspired. As the night wore on, Mary grew more anxious. The next day was the deadline that her friend, the poet Lord Byron, had set for writing the best ghost story. After much talk of science and the secrets of life, Mary had gone to bed exhausted and frustrated that nothing she could think of was scary enough. But as she drifted off to sleep, she dreamed of a man that was not a man. He was a monster. This fascinating story gives readers insight into the tale behind one of the world's most celebrated novels and the creation of an indelible figure that is recognizable to readers of all ages.
She made a monster by Lynn Fulton, illustrated by Felicita Sala is a beautifully told and strikingly illustrated picture book biography for upper elementary (Can also be enjoyed by adults) that explores key moments in Mary Shelley's young life and the events leading up to the writing of Frankenstein.
A highly recommended read to get into the scary spirit of Halloween. Published in 2018 ISBN-13: 978-0-525-57961-8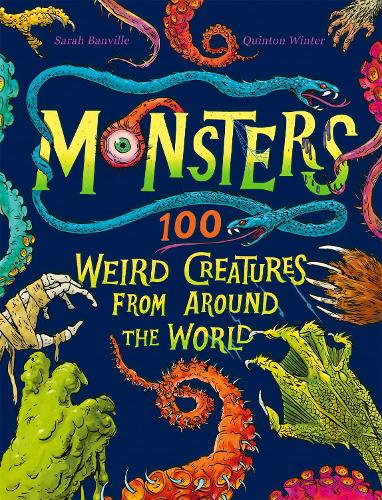 "A Spooktacular Book of Weird Creatures for this Halloween – read it if you dare! " – From the publisher
In Monsters 100 weird creatures from around the world, Sarah Banville and Quinton Winter have created the perfect book that adults and children will want to read and re-read. Bright and bold illustrations alongside fascinating folklore and history which surrounds the monsters is a must-have guide to monsters from all over the world.
Published in 2021, ISBN-13: 9781526363497