Children express themselves in various ways and adults can help children arouse their imagination, inspire them in their interest, motivate them, help them achieve and lead them on to realize their dreams and pursue what they are passionate about. Good books are a great source to aid them in this process. Reading stories about the struggles and achievements, about what happens in human situations (biographies) makes a positive impact on children. With that in mind, I have listed some books which might be beneficial.
IMAGINATION
Imagination in children is the key to learning. Through creativity and by expressing new ideas they are taking ownership. The four books I have listed today are all about imagination and creativity in preschool and kindergarten children.
Dreaming up: a celebration of building by Christy Hale ISBN13: 9781600606519 A collection of illustrations, concrete poetry, and photographs that shows how young children's constructions, created as they play, are reflected in notable works of architecture from around the world.
If I build a house by Chris Van Duessen, Yu love ISBN13: 9788934983491 The much-anticipated follow-up to the E. B. White Award-winning picture book If I Built a Car. In If I Built a Car, imaginative Jack dreamed up a whimsical fantasy ride that could do just about anything. Now he's back and ready to build the house of his dreams, complete with a racetrack, flying room, and gigantic slide. Jack's limitless creativity and infectious enthusiasm will inspire budding young inventors to imagine their own fantastical designs. Chris Van Dusen's vibrant illustrations marry retro appeal with futuristic style as he, once again, gives readers a delightfully rhyming text that absolutely begs to be read aloud.
Not a box by Antoinette Portis ISBN13: 9780061123221 A box is just a box . . . unless it's not a box. From mountain to rocket ship, a small rabbit shows that a box will go as far as the imagination allows. Inspired by a memory of sitting in a box on her driveway with her sister, Antoinette Portis captures the thrill when pretend feels so real that it actually becomes real when the imagination takes over and inside a cardboard box, a child is transported to a world where anything is possible.
Perfect square by Michael Hall ISBN13: 9780061915130 Michael Hall, the New York Times bestselling author inspires creativity and resilience in this strikingly illustrated picture book starring a brightly colored square. Perfect Square is the perfect choice for teaching kids to think outside the box! This imaginative picture book is an excellent choice to share during homeschooling. Young readers will learn days of the week and colors of the rainbow, as well as emotional resilience.
INSPIRATION
After imagination comes the creative process: To help children in the creative process, which can be challenging for them at times, I will introduce a few books that encourages children, and also helps adults to motivate children. The problems children face are that they begin to question their own creativity and artistic ability. They begin to compare their work to that of their peers. Imagination fails them too. To help them gain confidence in their creative ability one significant support is through books. Through stories children are inspired and adults can change their perspective as to how to encourage the children. Here are three books on my list today, perfect examples of the rewards of perseverance and creativity.
The Dot by Peter Reynolds is a book that I highly recommend in this context. The story is about Vashti who believes that she cannot draw, but her art teacher's encouragement leads her to change her mind. This is a great book to inspire creativity in kids who think they "can't". Watch the video to know more about this book and the author, Peter Reynolds.
Rosie Revere Engineer by Andrea Beaty, illustrated by David Roberts, ISBN-13: 978-1-41970-845-9 is another book that fits into this list. Rosie Revere dreamed of becoming a great engineer. Where some people see rubbish, Rosie sees inspiration. Alone in her room at night, shy Rosie constructs great inventions from odds and ends. Hot dog dispensers, helium pants, python-repelling cheese hats: Rosie's gizmos would astound–if she ever let anyone see them. Afraid of failure, she hides them away under her bed. Until a fateful visit from her great-great-aunt Rose (AKA Rosie the Riveter ), who shows her that the first flop isn't something to fear–it's something to celebrate. And you can only truly fail, if you quit. This book has been translated into many languages for the message it imparts. Good for ages 5-10.
The most magnificent thing by Ashley Spires, suggests that maybe a little trial and error is necessary when trying to get something right. It is a uplifting book about a little girl who makes things, and her best friend, a dog, and about making mistakes and trying again. The girl has a wonderful idea. She is going to make the most MAGNIFICENT thing! She knows just how it will look. She knows just how it will work. All she has to do is make it. But in the making process she realizes – her magnificent thing is anything but easy, and the girl tries and fails, repeatedly. Eventually, the girl gets really, really mad. She is so mad, in fact, that she quits. But after her dog convinces her to take a walk, she comes back to her project with renewed enthusiasm and manages to get it just right. Good for ages 5-10
Expressing yourself through art form – DANCE
Dance — and physical activity — should have the same status in schools as math, science and language. Psst: it may even help raise test scores, says Sir Ken Robinson. To know more about "Why dance is just as important as math in school read this TED-Ed Blog's interview of Sir Ken Robinson and Lou Aronica on April 2, 2018.
The manner of self-expression is diverse and varied. Amongst them dance is one, which, with its various styles of body movement and facial expressions communicate ideas, feelings, and experiences. What a wonderful art form to express ourselves, yet we find many children who hold back their expressions due to various reasons – gender, race, culture to name a few. Today I share with you a list of some great books to read to children to encourage them, or even for them to read and find out more about the form of expression which has different styles to communicate our feelings, learn about cultures, or just have fun. The message that these books communicate is, "Dance is for all" and emotions are best expressed through the moving body and dance. Communication is not limited to words only, as movement is an important factor in expressing ourselves.
I simply love How do you dance? by Thyra Heder and here it is on top of my list!!! You can jiggle or wiggle or stomp. You can bop or bounce or go completely nuts. You can dance at the market or the bus stop, with your fingers or your face. You can dance because you're happy or even because you're sad. Through dance, dancers can express feelings and emotions, conveying a message to the audience.
In this book, the question, what's the best way to dance is answered by a variety of people in a spirited way except one boy, who answers "I don't". He does, so alone in his bedroom. Toward the end, even dinosaurs, robots, and horses are seen swaying along, joining the fun. The conclusion, the boy finally breaks out of his shell, enjoys the feeling of dancing. Watch this video – an interview with Thyra Heder the author, for an interesting background to the book.
Published in 2019, ISBN13: 9781419734182. Recommended for 5-8 year-old's.
How many times do children of both genders NOT chase something they might love – whether it's ballet or baking, baseball or biology. The viewpoint that ought to be encouraged is – what they enjoy is what they enjoy. And to support this thought here is a sweet, lively and encouraging picture book, Boys dance! (American Ballet Theatre) celebrating boys who love to dance. Five boys (three with varying shades of brown skin, one white, and one Asian) take a ballet class and look forward to becoming dancers and athletes, like their role models at the American Ballet Theatre, in the future. Written by John Robert Allman and illustrated by Luciano Lozano, here is a empowering book that shows ballet is for everyone. Published in 2020, the book concludes by highlighting eight male American Ballet Theatre dancers, with photos and short first-person accounts. ISBN13: 9780593181157
"There's a place I go that's green and grass, a place I thought that no one knew– until the deer came." in a magical encounter with a deer in a peaceful clearing, a young ballerina practices her dance. She remembers her ballet teacher's instructions to hold their heads as if they are wearing antlers and the deer teaches her what that really means. The girl is now is now confident in her moves. A lovely book to share with girls who love dancing and also for those who are feel a bit discouraged as a dancer. Deer dancer, a delightful book written by Mary Lyn Ray and illustrated by Lauren Singer is the story about finding inspiration in nature and about the joy in dancing. Published in 2014. Ages 4-8, ISBN13: 9781442434219
A remarkable story inspired by real people and an actual dance company that the author, Nancy Bo Flood, witnessed. I will dance is a story about Eva, a 10 year child with cerebral palsy who uses a motorized wheelchair to get around. Yet she has a dream – a dream to dance! Dancing is understandably difficult with a limited lung capacity and her wheelchair, but when a newspaper ad mentions dance classes for all abilities, Eva tries. Here she finds dancers — with wheelchairs, walkers, braces, and even a prosthetic leg; able-bodied small and large, boy and girl, and multiple skin tones. Together these children dance!!! Illustrated by Julianna Swaney, this beautiful picture book is based on students in the Young Dance Company, a company for young people of all abilities. Highly recommended. Watch the trailer here . Published in 2020, ISBN13: 9781534430617 An uplifting book for all ages.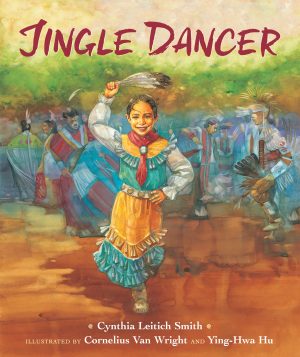 In Jingle dancer, written by Cynthia Leitich Smith and illustrated by Cornelius Van Wright and Ying-Hwa Hu, Jenna wants to be a jingle dancer just like her Grandma Wolfe at the next powwow. In order to make her dress sing she needs the cone-shaped, tin jingles that are sewn on to dancers' dresses as part of the regalia. She borrows one row from Great-aunt Sis, whose aching legs keep her from dancing; another from Mrs. Scott, who sells fry bread; one from Cousin Elizabeth, whose work keeps her away from the festivities; and a fourth row from Grandma, who helps Jenna sew the jingles to her dress, and practice her bounce-steps. She takes only one row from each woman because she doesn't want their dresses to "lose their voices". When the big day arrives, the girl feels proud to represent these four women and carry on their tradition. This story is how she interacts with the important people in her life, (her role models) to find her voice. A beautiful book that talks about family, community feeling and culture. Published in 2000 ISBN13: 9780688162412
Katherine Woodfine's A dancer's dream is loosely based on history: Stanislava Belinskaya the first girl to play the role of Clara in The Nutcracker, and the ballet had received bad reviews when it was first shown. 12-year-old Stana is a student at the Imperial Ballet School in St Petersburg when a certain Mr Tchaikovsky visits to help choose a dancer to play the part of Clara in his ballet, The Nutcracker. When Stana is chosen for the part, she loves escaping to a world of dancing sweets and fairies amid the glorious music, because it helps her forget to worry about her sister Olga, who is ill in hospital. Stana convinces herself that if she dances well enough, her sister will get well. When reviews come in for the first performance of The Nutcracker, they are critical – even of Stana's performance. That night, Stana has a horrible nightmare, dreaming that Olga is slipping away. However, in the morning, someone has left a wonderful present on Stana's bed – and a letter from her mother brings news that means Christmas will be brighter than Stana could ever have dreamed. Published in 2020 ISBN13: 9781471186165 For ages 7-12
In her first picture book, Bunheads, bestselling and award-winning author of Firebird, Misty Copeland tells the fictionalized story of Misty's start as a ballerina. discovering her love for dance through the ballet of Coppélia. The story depicts Misty's first lessons, how she falls in love with the story of Coppélia, auditions for the part of Swanhilda, and her friendship with another talented ballerina in her class. Misty learns to lean on her newfound friends for inspiration and rely on her own can-do spirit to dance her very best. Setor Fiadzigbey matches the story with delightful illustrations of the children as they learn ballet. This is such an amazing book (the first in the series) for children aged 5 -12 to learn about ballet, friendship, teamwork, dedication and perseverance. Published in 2020, ISBN13: 9780399547645
Join Misty Copeland in a very special read along of her book "Bunheads" written by Misty and illustrated by Setor Fiadzigbey!
A young and blossoming ballerina doubts her dancing abilities right before her upcoming auditions, when her shadow springs to life and leads her on a joyous exploration of their city. Her shadow—or inner voice—reminds her that she has everything she needs to participate. Will she dance? In the book, This is it, Daria Peoples-Riley emphasizes in rhythmic text, the power of positive self-talk before a big event. A cute and inspirational book that celebrates the joy of dance and shows a girl gaining confidence in herself-an important message for all children. Published in 2018, ISBN13: 9780062657763
The future is in your footsteps.
Freedom is in your feet.
Put one foot in front of the other,
and greet your destiny.
MUSIC IS AN ART OF EXPRESSION & COLLABO

RATION
At some point or the other in our lives, we have come across the remarkable power of music. It's power in releasing emotion and changing mood. Helping people cope with whatever they're going through – some pain or anxiety or even the little every day stresses. Music is one of the the most powerful ways of communication – it conveys messages that spoken languages may not. As music stems from different countries, cultures and traditions, often we don't understand the lyrics but enjoy the music even though it is in a foreign tongue.
Music provides children with the balance, freedom, self-confidence through which they express themselves. It can also provide a vital lifeline to human interaction for those whose special needs make other means of communication difficult. Making music with other people improves children's social and emotional skills. They learn to work together as a team and develop their sense of empathy with others. Here's a list of books for children, that celebrate the power of music.
To know more about "Five reasons why everyone should have music in their lives" Andy Smith gives us a resourceful introduction in: https://www.bbc.co.uk/teach/bring-the-noise/five-reasons-why-music-is-important/zv3krj6 and more in BBC's Bring the Noise link .
From New York Times: "It's never too early to start your child's journey to music aficionado. These audio gems can help." – Five music Podcasts for kids.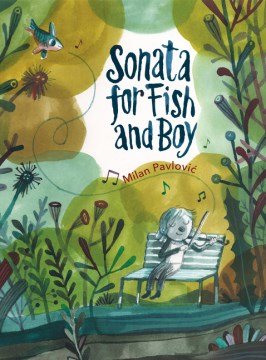 Music inspires friendship & a life full of dreams & adventure in this wordless picture book from Milan Pavlovic.
A praiseworthy wordless picture book created by Milan Pavlović, Sonata for fish and boy is a charming story about the lasting bonds of friendship and the power of music to unite. When a fish hears the singing of a violin, it is drawn out of the water and into the world of a young musician sitting on a shady bench. Soon fish and boy are flying over the rooftops together, past lively street musicians, a flock of birds, then from planet to planet, before landing back on earth for an idyllic afternoon in the park. In a forest of giant dandelions they discover a little house where a band plays cheerily, then, swept up by the wind, they tumble past a familiar-looking tree and bench, where the violin lies waiting to be played once more. Published in 2021 ISBN-13: 978-1-77306-161-0
No matter where you are, you can find the perfect instrument and join this band!
From the Publisher: The band director knows everything about all the instruments, and he can't wait to help find the perfect one for you. But an irrepressible young girl keeps interrupting with enthusiastic BOOM BOOM BOOMS on her drum. At least until the band director introduces one instrument that's even louder.
This laugh-out-loud picture book from National Book Award–longlisted author Colleen AF Venable is packed with boundless energy and giggle-worthy jokes—as well as information about eight instruments commonly played in school bands. Illustrator Lian Cho's exuberant artwork matches the text note for note and practically leaps off the page.
This joyous picture book will encourage young readers eager to pick up an instrument and learn to play the same. The Oboe Goes Boom Boom Boom celebrates music and will entertain young readers at home and classroom alike.
Each child in the band is inspired by a real-life musician, and biographies are included at the end of the book.
Published in 2020 ISBN-13: 978-0-06-249437-5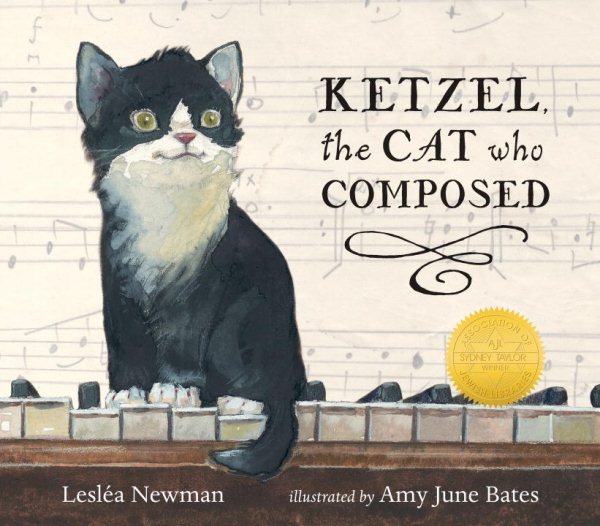 A kitten's stroll down a keyboard leads to a celebrated one-minute composition in this charming portrait of a remarkable true friendship.
Inspired by a true story, Lesléa Newman and Amy June Bates craft an engaging Biography/Fiction about Moshe Cotel a composer who lived in a noisy building on a noisy street in a noisy city. But to Moshe's ears there was music amidst all the chaos. One day, while out for a walk, he heard a small, sad sound that he'd never heard before. It was a tiny kitten! "Come on, little Ketzel," Moshe said, "I will take you home and we will make beautiful music together." And they did!!! While Moshe was agonizing over what to enter into a contest of compositions that are 60 seconds or less, Ketzel steps across the keys of Moshe's piano, bringing up an unexpected melody. Moshe documents the tune and submits it to the contest. While it doesn't win, it does get considerable recognition from the judges and it is revealed just how powerful the concept of creativity in music really is. A fun book to read aloud in a K-2 classroom, but will actually be appropriate and interesting for all ages. A good story to relate to creativity in the arts and even rescuing animals.
Published in 2015 ISBN-13: 978-0-7636-6555-5
.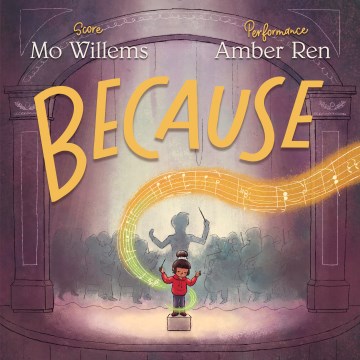 A series of events, some seemingly very insignificant, lead to a young girl attending a life-changing concert.
Where does this girl's musical journey begin? Because a young girl sat in her sick uncle's seat, she heard the beautiful music performed by an orchestra leading to an adoration for music and the creation of a musical life. Or perhaps it begins hundreds of years before, when, "Because a man named Ludwig wrote beautiful music— / a man named Franz was inspired to create his own." And perhaps, when the girl grows up, she will be the "because" for someone else's love of music. Because sometimes it's the smallest moments that have the biggest impact. There is a lovely circular narrative to this as the story could continue this way forever. It highlights that it can take one experience to find your passion but it is because of something and what has made it possible.
Both the score and performance by Mo Willems and Amber Ren makes "Because" just right for people of all ages to enjoy. A great choice for someone who needs a story of passion and hard work paying off. Published in 2019. ISBN-13: 978-1-36801-901-9
Drum Dream Girl: How One Girl's Courage Changed Music
"On an island of music, in a city of drumbeats, the drum dream girl dreamed," the dream girl, who dreams about congas, bongós, and moon-bright timbales on an island where everyone believes only boys should play drums. She had to be silent and practice in secret
Girls cannot be drummers. Long ago on an island filled with music, no one questioned that rule — until the drum dream girl. In her city of drumbeats, she dreamed of pounding tall congas and tapping small bongos. She had to keep quiet. She had to practice in secret. But when at last her dream-bright music was heard, everyone sang and danced and decided that both girls and boys should be free to drum and dream.
Girls cannot be drummers. Long ago on an island filled with music, no one questioned that rule―until the drum dream girl. In her city of drumbeats, she dreamed of pounding tall congas and tapping small bongós. She had to keep quiet. She had to practice in secret. But when at last her dream-bright music was heard, everyone sang and danced and decided that both girls and boys should be free to drum and dream. Inspired by the childhood of Millo Castro Zaldarriaga, a Chinese-African-Cuban girl who broke Cuba's traditional taboo against female drummers, Drum Dream Girl tells an inspiring true story for dreamers everywhere.
Inspired by the childhood of Millo Castro Zaldarriaga, a Chinese-African-Cuban girl who broke Cuba's traditional taboo against female drummers, Drum Dream Girl tells an inspiring true story for dreamers everywhere. Published in 2015 ISBN-13: 978-0-544-10229-3
Watch the trailer here
With the help of her memories of the time she spent in Japan with her ojichan, who is a professional violinist, Hana practices and practices playing her violin for her school talent show.
When Hana Hashimoto told her brothers that she had signed up to play her violin in the talent show, she was ridiculed by her brothers. "'That's just loopy,'" Kenji said, and Koji added ''You can barely play a note.'" They reminded her that it was a talent show and that she was just a beginner. But Hana didn't listen. "It was true that she was still a beginner. She had only been to three lessons." But playing the violin was in her blood. Her grandfather, Ojiichan, had once been Second Violin in a symphony orchestra in Kyoto, Japan and had even played for the Imperial Family.
Chieri Uegaki's splendidly narrates the story of a little girl's first performance with her new violin – from her being inspired by her grandfather, to her own inspirational performance. As beautiful as music itself this books is a joy to read. Hana's continued self-confidence in the face of her brothers' teasing and overcoming her own fear is a wonderful lesson for all children. The brothers' support of Hana after the talent show is a welcome show of familial love, and the touching ending offers encouragement and happiness. Published in 2014, ISBN13: 9781894786331 Watch the trailer of the book here
The Key From Spain: Flory Jagoda and Her Music
During the Spanish Inquisition, when all practicing Jews were ordered out of the country Flory's Judeo-Spanish ancestors fled from Spain with only two precious possessions: the key to their old house and the Ladino language. They settled in Bosnia, where they thought they would be safe. But when the Nazis invaded during World War II, the family realizes it isn't safe there, either. Flory fled Europe to begin a new life in the United States, and carried with her "a very little key, The other was very big, yet took no space at all, Ladino" with her, along with her other precious possessions — her harmoniku and her music. But what of the key? Flory's story is one of family and tradition, language and music, and that sustains and uplifts even through the sorrow.
This beautifully illustrated picture book biography, written by Debbie Levy and illustrated by Sonja Wimmer, tells the story of Ladino singer Flory Jagoda, and how her music helped her preserve her Baltic Jewish culture — and introduce it to her new country. Published in 2019 this picture book is good for ages 5-10, but interesting for all ages. ISBN13: 9781541522183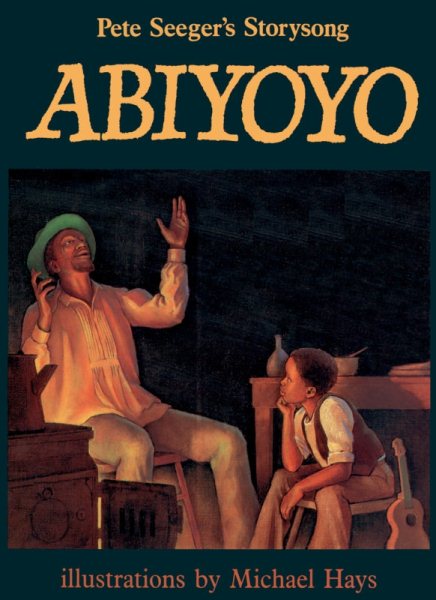 Abiyoyo
Based on a South African Lullaby and folk story written by Pete Seeger and illustrated by Michael Hayes, Abiyoyo is about a boy and his father who eventually outwit the monster Abiyoyo. The father and son duo with their magical powers, have a mischievous habit of making things vanish. The village people, fearing their magic powers drive them out of the village, but when the monster Abiyoyo appears, terrorizing everyone, it's only the father and son's magic that is able to save the day and all is forgiven.
Here's the link to Pete Seeger joining host LeVar Burton to read (and sing) the classic African folktale 'Abiyoyo' on Reading Rainbow. In this complete Reading Rainbow segment from 1986, legendary American folk singer Pete Seeger sings and tells us the story of a fearsome giant named Abiyoyo.
First published in 1963 ISBN-13: 978-0-689-71810-6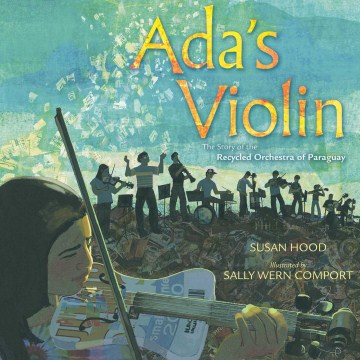 A remarkable true story about a visionary teacher who finds a way to help children escape their lives of extreme poverty and squalor through music – a story of hope and innovation .
The story of Ada's Violin begins in the town of Cateura, Paraguay, home to Asunción's largest garbage dump and a girl with an early interest in music. Almost everyone Ada knows works as a ganchero, sifting through the piles of trash for recyclable goods. Just as Ada is beginning to realize how limited her options are in Cateura, her grandmother signs her up for music lessons with the music teacher, Favio Chavez, who had just arrived. It quickly becomes clear that there will not be enough instruments in Sr. Chavez's class for all the interested students, and Ada's teacher is forced to get creative by making instruments out of the one resource Cateura has in abundance –trash! With her violin made of recycled materials, Ada's interest becomes a passion and alongside her friends and neighbors she masters her instrument and begins to receive national and international recognition. An extraordinary story, a non-fiction book about Community spirit, Recycling or Upcycling, Problem solving and and above all showing how to make a difference in our worlds. Published in 2016. ISBN-13: 978-1-48143-095-1
To know the real story please watch here.
Award-winning biographer Elizabeth Rusch and two-time Caldecott Honor–recipient Marjorie Priceman team up to tell the inspiring story of the invention of the world's most popular instrument: the piano.
The piano was invented by Bartolomeo Cristofori (1655-1731) of Italy. Cristofori was unsatisfied by the lack of control that musicians had over the volume level of the harpsichord. He is credited for switching out the plucking mechanism with a hammer to create the modern piano in around the year 1700.
Beautifully illustrated and student-friendly, The Music of Life: Bartolomeo Cristofori & The Invention of the Piano is the picture book biography of the creator of the pianoforte, now known simply as the piano. Cristofori began as a clavichord and harpsichord maker and restorer in Italy, but soon the Prince of Tuscany, Ferdinando de Medici, hired him to restore and create musical instruments for him and his court. Cristofori moved to Florence, and while there, began developing a new instrument. The clavichord was always quiet and difficult to hear, while the harpsichord always played loud. There was no way to control the volume of each note or key, so Cristofori's dream was to create an instrument that could play both quiet and loud to show different emotions, like the human voice. He worked with many different materials and made many different models to test his ideas before he developed the piano. Recommended for 4th and 5th grade and for someone having interest in the piano or musical instruments in general. Informative back matter, especially the author's detailing of how she used primary and secondary source materials for the solid and well thought out information on each spread in the whole book and can be considered a good mentor for research. Published in 2017. ISBN-13: 978-1-48144-484-2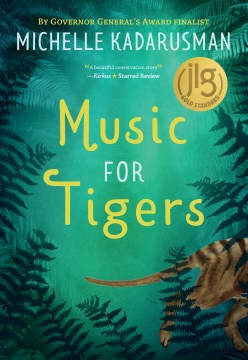 Middle schooler Louisa wants nothing more than to practice playing the violin back home in Canada, but her mother has shipped her off to Tasmania to stay with her Uncle Ruff. Not wanting to abandon her music, she brings her violin along. Life at the family's remote camp in the Tasmanian rainforest is intriguing, to say the least. There are pig-footed bandicoots, scary spiders, weird noises and odors in the night, and a quirky boy named Colin who cooks the most amazing meals. And above all there is something named Convict Rock.
Finally, Louisa learns the truth: Convict Rock is a sanctuary established by her great-grandmother Eleanor—a sanctuary for Tasmanian tigers, It is believed that Australia's huge marsupials were famously hunted into extinction almost a hundred years ago. Hidden in the rainforest at Convict Rock, one tiger remains. But now the sanctuary is threatened by a mining operation, and the last Tasmanian tiger must be lured deeper into the forest. The problem is, not since her great-grandmother has a member of the family been able to earn the shy tigers' trust.As the summer progresses, Louisa forges unexpected connections with Colin, with the forest, and—through Eleanor's journal—with her great-grandmother. She begins to suspect the key to saving the tiger is her very own music. But will her plan work? Or will the enigmatic Tasmanian tiger disappear once again, this time forever?
Music is found in many different places – in the rainforest Louisa discovers music while sitting and listening to the wildlife around her, and at the same time discovers she is not quite so different from her family after all. While staying in her ancestral home she discovers she wasn't the only person in her family with a passion for music, her great-grandmother Eleanor was not only an environmentalist and an ecological protectionist, she was also an accomplished pianist. When she meets Colin, the son of her Uncle Ruff's neighbour and an accomplished rainforest tour guide, she meets a neurodiverse friend who she helps to navigate the challenging world of body language and social interaction. Colin helps Louisa recognize and name what has been keeping her from earning a place in the youth orchestra, performance anxiety. His blunt recognition of her challenge helps her find comfort and also allows her the confidence to confide in her parents and get the help and resources she needs to succeed. Together they help to save a long thought extinct species.
Music for tigers by Michelle Kadarusman is a moving coming-of-age story and I would definitely recommend this to middle graders and for those with an interest in threatened and endangered species or nature in general. Published in 2020 ISBN-13: 978-1-77278-054-3
A violin and a middle-school musical unleash a dark family secret in this moving story by an award-winning author duo. For fans of The Devil's Arithmetic and Hana's Suitcase.
Shirli is a musi­cal the­ater enthusiast. She is deter­mined to win the role of Hodel in her school's play, Fid­dler on the Roof because of the oppor­tu­ni­ty it offers to show­case her voice. However, Shirli is heart­bro­ken as she has been offered the role of Golde. For all its dra­mat­ic rich­ness, play­ing the part of the Jew­ish matri­arch is not what she asked for. ​"I'm play­ing everybody's moth­er. I'm play­ing an old Jew­ish woman who has no solo." she bursts out. She is not self-absorbed or insen­si­tive, just an ambi­tious and sen­si­tive young adult whose life so far has been mov­ing towards a goal, one which now seems elusive. But then she realizes there is an upside: her "husband" is none other than Ben Morgan, the cutest and most popular boy in the school. Deciding to play out the role as best as she can, she rummages in her grandfather's attic for some props. There, she discovers an old violin in the corner — strange, since her Zayde has never seemed to like music, never even going to any of her recitals. Showing it to her grandfather unleashes an anger in him she has never seen before, and while she is frightened of what it might mean, Shirli keeps trying to connect with her Zayde and discover the awful reason behind his anger. A long-kept family secret spills out, of how he had been forced to play for the Auschwitz orchestra while his family and fellow prisoners were sent to the gas chambers. As Shirli learns the true power of music, both terrible and wonderful. a stronger bond develops with her grandfather and helps him to heal to some extent. Meanwhile Shirli discovers her musical roots and explores a crush.
Eric Walters and Kathy Kacer Music weaves the story beautifully around Shirli and her Zayde and Ben, linking the generations while explaining the tra­di­tion­al East­ern Euro­pean klezmer musi­cians who made their instruments speak with a human voice. The role of music in Jewish culture is an essential part of the story. Highly recommended for Middle Grades and above. published in 2019, ISBN- 978-0735266247
Broken strings includes an informative "Authors' note" which helps put the book in historical perspective for readers.