In the United States of America in November a substantial amount of excitement builds up around NaNoWriMO or National Novel Writing Month in which participants attempt to write a 50,000-word manuscript.
In the United Kingdom National Non-Fiction November is the Federation of Children's Book Groups' annual celebration of all things factual.
To mark the Non-Fiction November, I will be celebrating some titles on my non-fiction shelf.
Julia Donaldson's books have always been a joy to behold and her most recent one is undoubtedly a gorgeous one that will not disappoint any of her fans, young and old. (Look at the preview link) Counting creatures, beautifully illustrated by Sharon King-Chai, is a lift-the-flap counting game that pairs parent animals with their babies. Call it a non-fiction book for preschoolers as they count and learn the scientific names of baby animals and birds. This one will be a treasured one for our young friends and will be an excellent gift.
Originally published in November, 2020 by Two Hoots ISBN-13 : 978-1529040517 & then again by Dial Books ISBN13: 978-0593324530
Steve Jenkins' book, Never Smile at a Monkey: And 17 Other Important Thing to Remember is introduced as "When it comes to wild animals, everyone knows that there are certain things you just don't do. It's clearly a bad idea to tease a tiger, pull a python's tail, or bother a black widow spider. But do you know how dangerous it can be to pet a platypus, collect a cone shell, or touch a tang fish? " I consider this book to be a remarkable introduction to informational text for Lower Elementary children and a brilliant one for provocation for children doing their animal in-depth studies. The wide variety from the animal kingdom makes the book even more fascinating.
Published October, 2009 by Houghton Mifflin Books for Children ISBN13: 9780618966202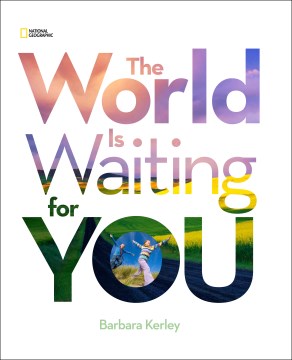 A splendid book by Barbara Kerley, from National Geographic, that binds together what kids do at a young age with what they will aspire to be as an adult. The book invites children to get out into the world and explore. After all, if you love getting wet, you could become a diver. Love digging in the mud? You could be an archeologist. Love looking at the stars? Climbing trees? Digging into deep holes in the ground? Explorers are shown in a cave of giant crystals, dangling from cliff's edge in California, spacewalking outside the International Space Station, and shooting class-five rapids on the Shoshone River, Wyoming. I believe the biggest appeal in this book are the bright, colorful inspirational images from around the world. Can definitely be considered as a career book that opens up limitless imagination to the young mind, as the title suggests, The world is waiting for you. Appropriate for ages 4 – 8 yet a fabulous one for all.
Published in 2013 , by National Geographic Kids ISBN13: 9781426311147
It is so timely that when Greta Tintin Eleonora Ernman Thunberg teenage Swedish environmental activist, is challenging world leaders to take immediate action against climate change that DK has published this book to raise consciousness among our young children. The message the book is delivering is – Our house is on fire – it's time to wake up to the climate crisis facing planet Earth before it's too late. Climate emergency atlas : what's happening – what can we do written by Dan Hooke and with a foreword by Liz Bonnin will help readers to find out everything they need to know about the crisis that is facing the world today and how each one of them can help to make a difference.
Published October, 2020 by DK Publishing (Dorling Kindersley) ISBN13: 9780744021837
As children's awareness grow about the climate crisis they are looking for ways they can help. Recycle and remake: creative projects for eco kids provides us in an easy to read and understand the big issues our planet is facing and how to reuse and recycle rather than throw away and buy something new. It is full of pictures and suitable for the elementary school age it is aimed at. Yes, it is another craft book, but not a regular craft book it definitely comes with an important message.
Published in April, 2020 by DK Publishing (Dorling Kindersley) ISBN-13: 978-0241395813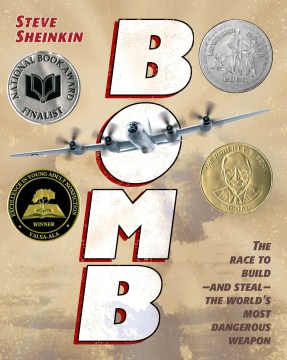 As I was selecting titles for my list of non-fiction books I wanted to add one that, though intended for Middle School and above, is read by some very enthusiastic 5th graders. Bomb: the race to build – and steal the world's most dangerous weapon by Steve Sheinkin is the ultimate read for any reader interested in history, science, and espionage. A non-fiction book that is well researched, well documented with the attributes of a thrilling, suspenseful novel.
Published in September, 2012 by Flash Point; Illustrated edition ISBN-13 : 978-1596434875