The manner of self-expression is diverse and varied. Amongst them dance is one, which, with its various styles of body movement and facial expressions communicate ideas, feelings, and experiences. What a wonderful art form to express ourselves, yet we find many children who hold back their expressions due to various reasons – gender, race, culture, anxiety, to name a few. Today I share with you a list of some great books to read to children to encourage them, or even for them to read and find out more about the form of expression which has different styles to communicate our feelings, be confident, learn about cultures, or just have fun. The message that these books communicate is, "Dance is for all" and emotions are best expressed through the moving body and dance. Communication is not limited to words only, as movement is an important factor in expressing ourselves, building social skills enhances creativity.
Dance — and physical activity — should have the same status in schools as math, science and language. Psst: it may even help raise test scores, says Sir Ken Robinson. To know more about "Why dance is just as important as math in school read this TED-Ed Blog's interview of Sir Ken Robinson and Lou Aronica on April 2, 2018.
I simply love How do you dance? by Thyra Heder and here it is on top of my list!!! You can jiggle or wiggle or stomp. You can bop or bounce or go completely nuts. You can dance at the market or the bus stop, with your fingers or your face. You can dance because you're happy or even because you're sad. Through dance, dancers can express feelings and emotions, conveying a message to the audience.
In this book, the question, what's the best way to dance is answered by a variety of people in a spirited way except one boy, who answers "I don't". He does, so alone in his bedroom. Toward the end, even dinosaurs, robots, and horses are seen swaying along, joining the fun. The conclusion, the boy finally breaks out of his shell, enjoys the feeling of dancing. I recommend it highly to anybody who wants to share the joy of expressive movement with young children. Watch this video – an interview with Thyra Heder the author, for an interesting background to the book.
Published in 2019, ISBN13: 9781419734182. Recommended for 5-8 year-old's.
How many times do children of both genders NOT chase something they might love – whether it's ballet or baking, baseball or biology. The viewpoint that ought to be encouraged is – what they enjoy is what they enjoy. And to support this thought here is a sweet, lively and encouraging picture book, Boys dance! (American Ballet Theatre) celebrating boys who love to dance. Five boys (three with varying shades of brown skin, one white, and one Asian) take a ballet class and look forward to becoming dancers and athletes, like their role models at the American Ballet Theatre, in the future. Written by John Robert Allman and illustrated by Luciano Lozano, here is a empowering book that shows ballet is for everyone. Published in 2020, the book concludes by highlighting eight male American Ballet Theatre dancers, with photos and short first-person accounts. ISBN13: 9780593181157
"There's a place I go that's green and grass, a place I thought that no one knew– until the deer came." in a magical encounter with a deer in a peaceful clearing, a young ballerina practices her dance. She remembers her ballet teacher's instructions to hold their heads as if they are wearing antlers and the deer teaches her what that really means. The girl is now is now confident in her moves. A lovely book to share with girls who love dancing and also for those who are feel a bit discouraged as a dancer. Deer dancer, a delightful book written by Mary Lyn Ray and illustrated by Lauren Singer is the story about finding inspiration in nature and about the joy in dancing. Published in 2014. Ages 4-8, ISBN13: 9781442434219
A remarkable story inspired by real people and an actual dance company that the author, Nancy Bo Flood, witnessed. I will dance is a story about Eva, a 10 year child with cerebral palsy who uses a motorized wheelchair to get around. Yet she has a dream – a dream to dance! Dancing is understandably difficult with a limited lung capacity and her wheelchair, but when a newspaper ad mentions dance classes for all abilities, Eva tries. Here she finds dancers — with wheelchairs, walkers, braces, and even a prosthetic leg; able-bodied small and large, boy and girl, and multiple skin tones. Together these children dance!!! Illustrated by Julianna Swaney, this beautiful picture book is based on students in the Young Dance Company, a company for young people of all abilities. Highly recommended. Watch the trailer here . Published in 2020, ISBN13: 9781534430617 An uplifting book for all ages.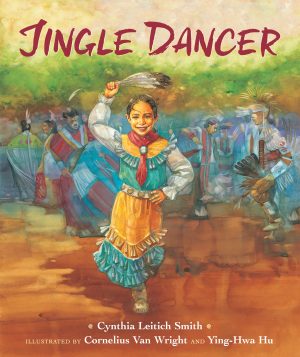 In Jingle dancer, written by Cynthia Leitich Smith and illustrated by Cornelius Van Wright and Ying-Hwa Hu, Jenna wants to be a jingle dancer just like her Grandma Wolfe at the next powwow. In order to make her dress sing she needs the cone-shaped, tin jingles that are sewn on to dancers' dresses as part of the regalia. She borrows one row from Great-aunt Sis, whose aching legs keep her from dancing; another from Mrs. Scott, who sells fry bread; one from Cousin Elizabeth, whose work keeps her away from the festivities; and a fourth row from Grandma, who helps Jenna sew the jingles to her dress, and practice her bounce-steps. She takes only one row from each woman because she doesn't want their dresses to "lose their voices". When the big day arrives, the girl feels proud to represent these four women and carry on their tradition. This story is how she interacts with the important people in her life, (her role models) to find her voice. A beautiful book that talks about family, community feeling and culture. Published in 2000 ISBN13: 9780688162412
Katherine Woodfine's A dancer's dream is loosely based on history: Stanislava Belinskaya the first girl to play the role of Clara in The Nutcracker, and the ballet had received bad reviews when it was first shown. 12-year-old Stana is a student at the Imperial Ballet School in St Petersburg when a certain Mr Tchaikovsky visits to help choose a dancer to play the part of Clara in his ballet, The Nutcracker. When Stana is chosen for the part, she loves escaping to a world of dancing sweets and fairies amid the glorious music, because it helps her forget to worry about her sister Olga, who is ill in hospital. Stana convinces herself that if she dances well enough, her sister will get well. When reviews come in for the first performance of The Nutcracker, they are critical – even of Stana's performance. That night, Stana has a horrible nightmare, dreaming that Olga is slipping away. However, in the morning, someone has left a wonderful present on Stana's bed – and a letter from her mother brings news that means Christmas will be brighter than Stana could ever have dreamed. Published in 2020 ISBN13: 9781471186165 For ages 7-12
In her first picture book, Bunheads, bestselling and award-winning author of Firebird, Misty Copeland tells the fictionalized story of Misty's start as a ballerina. discovering her love for dance through the ballet of Coppélia. The story depicts Misty's first lessons, how she falls in love with the story of Coppélia, auditions for the part of Swanhilda, and her friendship with another talented ballerina in her class. Misty learns to lean on her newfound friends for inspiration and rely on her own can-do spirit to dance her very best. Setor Fiadzigbey matches the story with delightful illustrations of the children as they learn ballet. This is such an amazing book (the first in the series) for children aged 5 -12 to learn about ballet, friendship, teamwork, dedication and perseverance. Published in 2020, ISBN13: 9780399547645
Join Misty Copeland in a very special read along of her book "Bunheads" written by Misty and illustrated by Setor Fiadzigbey!
A young and blossoming ballerina doubts her dancing abilities right before her upcoming auditions, when her shadow springs to life and leads her on a joyous exploration of their city. Her shadow—or inner voice—reminds her that she has everything she needs to participate. Will she dance? In the book, This is it, Daria Peoples-Riley emphasizes in rhythmic text, the power of positive self-talk before a big event. A cute and inspirational book that celebrates the joy of dance and shows a girl gaining confidence in herself-an important message for all children. Published in 2018, ISBN13: 9780062657763
"The future is in your footsteps.
Freedom is in your feet.
Put one foot in front of the other,
and greet your destiny."