Lunar New Year, Chinese Chunjie, Vietnamese Tet, Korean Solnal, and Tibetan Losar, also called Spring Festival, festival typically celebrated in China and other Asian countries that begins with the first new moon of the lunar calendar and ends on the first full moon of the lunar calendar, 15 days later. The lunar calendar is based on the cycles of the moon, so the dates of the holiday vary slightly from year to year, beginning sometime between January 21 and February 20 according to Western calendars. Approximately 10 days before the beginning of the new lunar year, houses are thoroughly cleaned to remove any bad luck that might be lingering inside, a custom called "sweeping of the grounds." Traditionally, New Year's eve and New Year's day are reserved for family celebrations, including religious ceremonies honoring ancestors. Also on New Year's day, family members receive red envelopes (lai see) containing small amounts of money. Dances and fireworks are prevalent throughout the holidays, culminating in the Lantern Festival, which is celebrated on the last day of the New Year's celebrations. On this night colourful lanterns light up the houses, and traditional foods such as yuanxiao (sticky rice balls that symbolize family unity), fagao (prosperity cake), and yusheng (raw fish and vegetable salad) are served. The Lunar New Year is celebrated on Friday, February 12, 2021. Britannica, The Editors of Encyclopaedia. "Lunar New Year". Encyclopedia Britannica, 12 Dec. 2020, https://www.britannica.com/topic/Lunar-New-Year. Accessed 8 February 2021.
To mark this special celebration I have created a list of eight outstanding picture books.
Bringing in the New year by Grace Lin introduces young (ages 3-6) readers to the traditions surrounding the Lunar New Year. The story follows a Chinese American family as they prepare for the Lunar New Year. Each member of the family lends a hand as they sweep out the dust of the old year, hang decorations, and make "get-rich" dumplings. This is followed by wearing new clothes and celebrating with family and friends. There will be fireworks and lion dancers, shining lanterns, and a great, long dragon parade to help bring in the Lunar New Year. A lovely spread with a foldout page shows the lucky dragon surrounded by celebrants banging drums and gongs and blowing noisemakers. Published in 2008 this book is a wonderful introduction to the Chinese New Year traditions. ISBN 9780-375-83745-6
Jen Sookfong Lee's Chinese New Year: A Celebration for Everyone comes together as a semi-autobiographical book blending history, family traditions, and recipes. Informative accounts of China's political and cultural past are intermixed with stories of immigration experiences from different family members. Lee not only shares how family traditions were passed on to her but then passes on these same traditions to readers through recipes and childhood memories. With bright photos on every page, engaging personal stories, and informative sidebars the book offers substantive information about the holiday – myth, history, politics, varying traditions, and family lore and its celebration. Recommended for Grades 3-6, this informative book was Published in 2016, ISBN-13: 978-1-45981-126-3.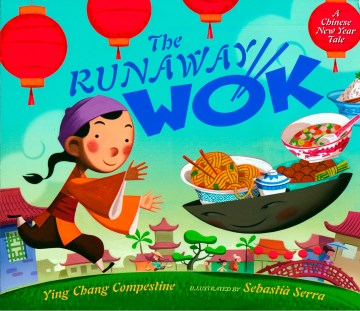 The runaway wok, is a Chinese twist on a Danish folktale. On Chinese New Year's Eve, Ming, the son of a poor couple is sent to market to trade their last eggs for rice so they can make a meal for their neighbors. Ming swaps the eggs for a smiling, singing wok that boasts, "I am more than what you see!" The wok rolls out of Ming's house and returns with treats that are not only enough for Ming's family but hold plenty to share. Will this magic wok and Ming's generosity be enough to bring a happy Chinese New Year to the poor families of Beijing? The author, Ying Chang Compestine, and illustrator, Sebastia Serra, have created a picture book that provides not only an excellent introduction to the Chinese New Year holiday but a lesson on sharing. An author's note provides additional information about Chinese New Year customs and the history of the wok along with a recipe for fried rice. Published in 2011, ISBN-13: 978-0-525-42068-2, this story will be enjoyed by Grades K-4
The Nian monster written by Andrea Wang, and illustrated by Alina Chau is the story of the legendary Nian monster who has returned at Chinese New Year. Thousands of years ago the Nian Monster used to eat entire villages. The New Year traditions involving loud sounds, fire, and the color red had successfully scared him off, but he's not afraid anymore! The Nian Monster returns and threatens to eat Shanghai starting with Xingling! The old tricks to keep him away don't work on Nian anymore, but Xingling is clever. Will her quick thinking be enough to save the city from the Nian Monster? This book brings the legend of the Nian monster to present China, linked to landmarks in Shanghai and features a courageous, smart little girl and Chinese traditional food. Published in 2016, ISBN-13: 9780807556429 a fun read for ages 3-8.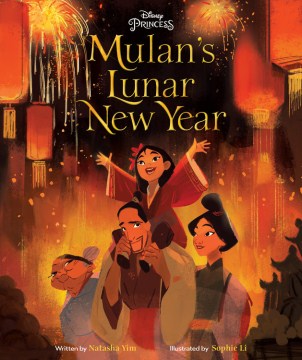 In Mulan's Lunar New Year by Natasha Yim; illustrated by Sophie Li, Mulan is getting ready for the Chinese New Year. A lot of preparation is needed for this important celebration, and for the first time, Mulan is old enough to help out. She does all that's required in order to bring in good luck – wearing red for good luck and picking the dragon lantern signifying good luck, learning how to make steaming fluffy white buns for happiness and reunion, making dumplings for prosperity and cooking noodles for a long life. Afterward, she brings some of the food to her ancestors at the family temple. She learns that she cannot sweep after the new year for a few days or she'll sweep away the good luck. Yet, everything she does seems to turn out wrong. Has she brought bad luck to the whole family? Her parents and grandmother support her good intentions. This remarkable Lunar New Year story with Mulan as the central character captures the unique sense of magic, imagination, and possibility that surrounds the holiday! A cute enjoyable story with beautiful artwork, published by Disney Press in 2018. ISBN-13: 978-1-36802-326-9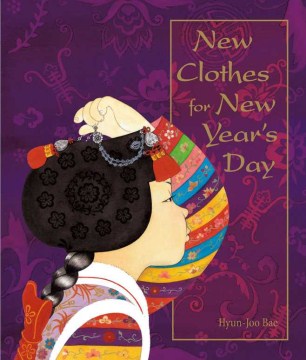 In New Clothes for New Year's Day, translated from Korean, Hyun-Joo Bae follows a young Korean girl as she dresses and prepares for celebrating the Lunar New Year. In simple words and pictures each step in donning the elaborate, traditional costume, from the wrapped and tied "rainbow-striped jacket" to the silk pouch that brings good luck, is depicted. The author includes, at the end of the book, information on New Year's Day in Korea, the reason they dress up, and the significance. Also, the author gave the names of all the clothes the girl put on in the story. Although short on story, the book is attractive and useful. I really liked that it gave us a perspective on Korean cultural practices for New Year's Day. A simple read. Published in 2007, ISBN13: 9781933605296
Mindy Kim and the Lunar year parade by Lyla Lee, illustrated by Dung Ho is the second book in the Mindy Kim series. This is Mindy's first Lunar New Year year without her mother. When Mindy, her best friend Sally, and her father go to the Lunar New Year parade, they bump into her Appa's coworker — and they end up spending Lunar New Year together! A cute story, no doubt, but what I liked most about this book is that it teaches kids about Korean Lunar New Year, Korean food, customs, traditions, etc. In the author, Lyla Lee's words "It's my first time writing extensively about my Korean culture+family traditions. hope people enjoy reading it as much as I enjoyed writing about Mindy's adventures in learning more about her heritage." Published in 2020, ISBN-13: 978-0-525-42068-2 Recommended for Grades ages 6-10
The Great Race: The Story of the Chinese Zodiac is a children's picture book written and illustrated by Christopher Corr. It is a retelling of the Chinese folklore on how the twelve Chinese Zodiac animals came to be and the reason in which order they've been placed. It also sneaks into why cats chase rats. This fun animal story is attractively illustrated and told with a gentle sense of humor. This book makes a great read-aloud for Lower Elementary children. Not a fancy, accurate version of the tale but clear, concise, and amusing for young readers. Published in 2018, ISBN13: 9781786030658