In Japan the fifth day of the fifth month was traditionally called Tango no Sekku and was a festival for boys. Today however 5th of May is celebrated as Children's day or Kodomo no Hi (こどもの日) in Japanese. To celebrate this special day I have chosen five and five (fifth day of the fifth month) – TEN – children's books set in Japan.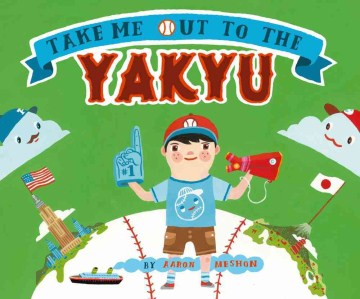 "My American pop pop takes me to watch baseball at the stadium / My Japanese ji ji takes me to watch yakyu at the dome." Here's the story of one boy who goes to watch baseball with his American Grandpa in the USA and with his Japanese Grandpa in Japan. Join him and his family for two ballgames—on opposite sides of the world! Aaron Meshon, in a very simple and magnificent way brings out the difference in customs while sharing the love for the same sport. There are many differences in baseball in each country, such as how to get to the stadium, cheering goods bought in the United States and Japan, and snacks eaten at the stadium. A wonderful book to study cultural differences as you turn the pages of Take me out to the yakyu Published in2013, ISBN13: 9781442441781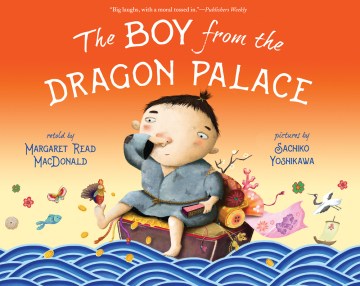 The boy from the dragon palace has been adapted from an ancient folk tale from Japan. One day, a poor flower seller drops his leftover flowers into the sea as a gift for the Dragon King. What does he get in return? A little snot-nosed boy—with the power to grant wishes! Soon the flower seller is rich, but what will happen if he forgets the meaning of "thank you?" A story with a moral and teaching children the value of gratitude and contentedness. Margaret Read MacDonald travels the world telling stories, looking out for great folktales to share and some of her favourite folktales she expands into picture books. The book has been beautifully illustrated by Sachiko Yoshikawa. Published in 2011, ISBN13: 9780807575130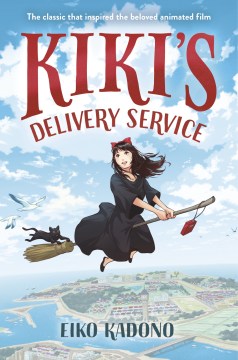 Originally published in Japan in 1985 as " Majo no Takkyūbin "(or "Witch's Express Home Delivery"), by Eiko Kadono is a fantasy novel in Japanese and set in Japan, best known outside of Japan as the basis for a 1989 Studio Ghibli anime film directed by Hayao Miyazaki. This new English translation, Kiki's Delivery Service, from Emily Balistrieri has made the story of Kiki and her faithful cat, Jiji, a charming, delightful must read story for young and old. Each chapter in the story focuses around one customer and what they want. But half-witch Kiki never runs from a challenge. When her thirteenth birthday arrives, she's eager to follow a witch's tradition: choose a new town to call home for one year. Kiki flies to the seaside village of Koriko and expects that her powers will easily bring happiness to the townspeople. But gaining the trust of the locals is trickier than she expected. Read more about Kiki and her adventures in this book published in 2020, ISBN13: 9781984896667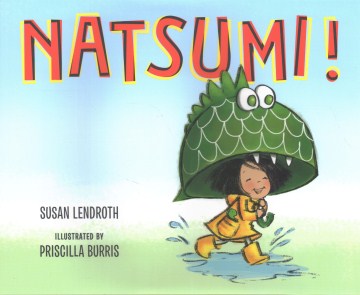 Natsumi! written by Susan Lendroth and illustrated by Priscilla Burris is the story about a young girl in Japan, named Natsumi who struggles with being different and doing everything in her own loud, impulsive "big way". During the Japanese festival, her grandmother asked Natsumi to carefully select specific flowers. Natsumi decided to pick all of the flowers! When her grandmother asked her to gently remove the bugs from the flowers, Natsumi whips her bouquet into a cloud of pollen, leaves and ants. "Not so fast, Natsumi!" is all she heard! She did everything quickly including stirring tea with her father."Not so hard, Natsumi!" her father would say. Her grandfather helps her to find an activity that matches her nature. A wonderful multigenerational story that gives the message – Natsumi is not like the other kids, she is special, and shines when she finds her niche! An excellent book to read with children in K-3. Published in 2018 ISBN13: 9780399170904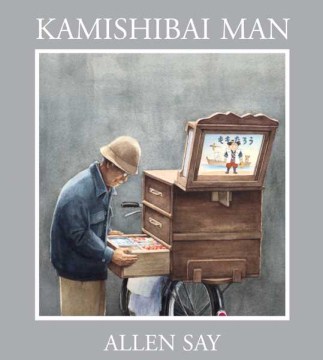 Not so long ago, but before there was television in all households, lived in Japan an old man and his wife – Jiichan (Grandpa) and Baachan( Grandma). He was the Kamishibai man, who would ride his bicycle into town where he would tell stories to the children and sell candies. But as technology crept in, children became more interested in television and no longer cared for the Kamishibai man's stories. Finally, only one boy remained, and he had no money for candy. Years went by and one day, probably for the last time, the Kamishibai man and his wife made another batch of candy, and he pedaled into town to tell one more story—his own. He calls, "Come gather around me, little ones, your kamishibai man is here again!" He starts telling his stories and when he is finished narrating, he looks around to see he is surrounded by familiar faces—the children he used to entertain have returned, all grown up and more eager than ever to listen to his delightful tales. The story ends on a more promising note – the Jiichan going home and telling Baachan – to make more candies and he hopes to go out to the town again with his bicycle and the Kamishibai bag. A poignant story, The Kamishibai Man, written and illustrated by Allan Say focuses on the themes of aging and the effects of technological advancements in our society. Published in 2005, ISBN13: 9780618479542 For Grades 2-5 and recommended read for adults who enjoy children's books.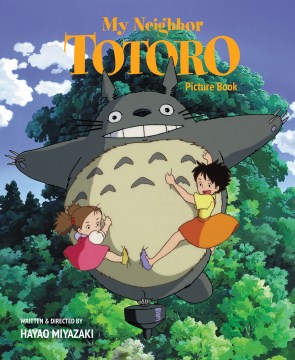 My neighbor Totoro is the most beloved classic animated movie from Studio Ghibli by director Hayao Miyazaki. This picture book was published in 2013, to celebrate the film's 25th anniversary. The book featuring original illustrations by Miyazaki himself, and accompanying story by Tsugiko Kubo makes it a perfect companion book to the film. This updated edition, allows parents and children to relive Totoro's magical adventures with the scene-by-scene illustrations and character dialogue. For those not familiar with the story, Satsuki and Mei are sisters who have moved out of the city (Tokyo) to the country, in a small town. Their new house is run down and "haunted", according to the kids in the neighborhood. The girls' mother is in the hospital with tuberculosis. Their father is an archeologist. The girls are learning what its like to work hard like the country folk and Satsuki is becoming more of a big girl, helping her father keep up the house and cook food. Here comrs Totoro, a forest spirit that shows himself to the girls and takes them on fantastic adventures through the trees and the clouds–and teaches them a lesson about trusting one another. I love the movie and I believe this books to be, although slightly deviated, a recommended read for all ages. ISBN13: 9781421561202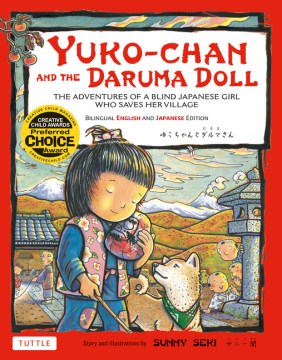 Yuko-chan and the Daruma Doll, a gorgeous book by author/illustrator Sunny Seki, takes readers on a journey into ancient Japan and the story behind the famous Daruma Doll. This is a wonderfully illustrated and inspiring tale about perseverance and hope. It is the story of Yuko-chan, an adventurous blind orphan, who is able to do amazing things. To know more about the book and the author watch this video clip. A bilingual book, published in 2012, ISBN13: 9784805311875
Winner of Australia's Children's Book Council Picture Book of the Year Award (1998), The Two Bullies written and illustrated by Junko Morimoto is an amusing tale of two very strong men – the strongest man in Japan, Ni-Ou, and the strongest man in China, Dokkoi. When Ni-ou learns about Dokkoi he decides to travel to China to prove he is the stronger amongst the two. While he was preparing to leave he goes to a shrine to pray and there he meets a mysterious priest who gives him a file that will cut through anything. He rowed a boat to to China and arrived at Dokkoi's house, only to find that his opponent was not home. Ni-Ou waits. Then he hears Dokkoi's steps from miles away and concludes that Dokkoi is clearly much bigger and stronger than he is. He immediately decides to escape out the window and go back to Japan. Dokkoi chases after him, heaving an anchor at Ni-ou's retreating boat to stop him from fleeing. But when Ni-ou cuts the heavy anchor chain with his mysterious file, Dokkoi concludes that Ni-ou has ripped it apart with his bare hands. Ni-ou is thankful that he had not met his opponent and breathes a sigh of relief. It is said that the statues of the gaurds at the Hachiman shrine are of Ni-ou. Since that day, it is believed, when people in China lift something heavy, they say, "Ni-ou!" And in Japan they say, "Dokkoi-sho!" A well loved book specially for boys ages 5-8. ISBN-13 : 978-0517800621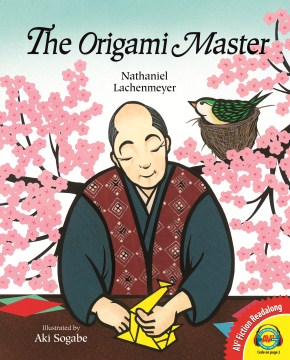 A charming tale, beautifully illustrated – The origami master is a story about the true meaning of friendship by by Nathaniel Lachenmeyer and illustrated by Aki Sogabe. Shima the Origami Master lives alone on a mountain in Japan, but he isn't lonely, as his beautiful origami animals keep him company. One morning Shima finds a perfect new paper elephant on his desk. And this happens again and again. Where could it have come from? Much to his surprise he finds out that his origami skills have been mastered and been perfected by a warbler sitting in a tree by his window. He traps the bird, puts him in a cage with lots of paper. When Shima wakes from his sleep he finds the cage empty, and an origami key lying next to the cage. With a feeling of guilt and shame, Shima goes out to look for the bird and finds the warbler building a nest. Shima tries to make amends by making an origami nest "for the friend he had almost lost" . At the end of the book is a pattern on how to make a bird in 11 steps. Published in 2008, ISBN13: 9780807561348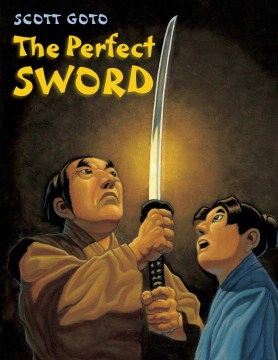 The story The perfect sword, is the story of "Sensei Masa was a master swordmaker known throughout all of Japan." While working as his apprentice, Young Michio learns not only the skills to make a fine sword, but also lessons in humility, hard work, and compassion, elements of Bushido, the samurai code of honor. When he and Sensei create a sword that rivals all others, warriors from around Japan come to claim ownership of it. But only one can be worthy. The Perfect Sword is a moral tale about the virtues like humility, courage, empathy and selflessness is what make a person worthy of something perfect. Masa's young apprentice's final words to his master in the storybook, "Is it time to start working on the next perfect soul, Sensei?" is a poignant finish to the value of what makes anyone a good person. Beautiful illustrations make this book even more celebrated. A highly recommended book for Grades 3-6. Published in 2008, ISBN13: 9781570916977