The holy month of Ramadan is the 9th month on the Islamic Calendar. It is the holiest month of the year for Muslims as it was during the month of Ramadan when Islam was born. This is the time Muslims observe the fast during daylight hours to remember those less fortunate and to also reflect on our lives and remember to remain humble. A time for prayer, a time of family and togetherness. At the end of Ramadan, a three-day spiritual celebration known as Eid al-Fitr occurs. During this time, Muslims rejoice in the completion of the fast. Family members and friends gather to share in feasts and prayers. During Eid al-Fitr, it is customary to donate to the poor and disadvantaged.
Fasting during Ramadan is the fourth of the Five Pillars of Islam. These pillars, or duties, form the basis of how Muslims practice their religion. According to Islam Guide, the Pillars of Islam are:
Shahada: faith in the Islam religion,
Salat: pray five times per day facing the direction of Mecca,
Zakat: give support to the needy,
Sawm: fast during Ramadan, and
Hajj: make the pilgrimage to Mecca at least once during one's lifetime.
For additional information:
Here I have selected a few books that I think speak of the joy and commitment that are so true to the celebration and will help those who are interested to know about other cultures and faiths.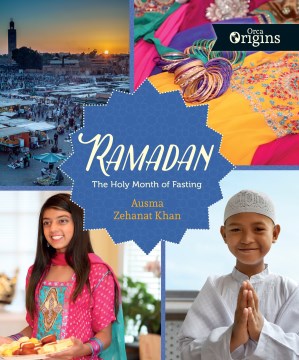 Written by Ausma Zehanat Khan, Published in 2018, Ramadan: the holy month of fasting, was a much needed book, that provides a great deal of detail, in easy text and personal perspective about the various practices which comprise the observance of the month of fasting.. Khan begins with a personal reminiscence of her first attempt at fasting, when she was 9 years old, and the lessons she has since learned about the fast. She goes on to explain the main tenets of the Islamic faith and how Ramadan fits into the belief system, including information about lunar calendars as compared to solar calendars.The book shares holy traditions from countries around the world such as Egypt, Kenya, and India. Included is a table of contents, glossary, list of resources, index and also recipes for some of the foods mentioned in the text. She adds interesting facts like the explanation of how the Olympic fencer, Ibtihaj Muhammad trains differently during Ramadan. This book, recommended for Grades 3-6 or anyone who wants to know about Ramadan is a good choice for learning about Muslims' traditions as expressed in various cultures, . ISBN13: 9781459811812
In Lailah's lunchbox, the author Reem Faruqi, narrates the story of Lailah recently moved from Abu Dhabi to Peachtree City, GA, and while she misses her friends back in the Middle East, she is very excited to be old enough to fast during Ramadan. But she has to face the challenges of being NEW and DIFFERENT. What if her class doesn't know what Ramadan is? What if she is the only one fasting? Her mother has given her a note for her teacher, explaining about her fast, but she feels too awkward to hand it in. And then, she finds herself struggling to explain to her classmates why she isn't eating lunch with them. A visit to the school library, and a chat with kindly librarian Mrs. Carman gives Lailah an idea about how to communicate what she is doing and why. Illustrated by Lea Lyon, this is a picture-book about children growing up in a new country, or even as an immigrant story for children. Published in 2015, ISBN13: 9780884484318 recounts her own life experiences to some extent, moving from the United Arab Emirates to the United States as a young perso
On a personal note, in my years working as a librarian at an International school I encountered many students spending their lunch time in the library during Ramadan and noticed both their enthusiasm or embarrassment to explain the reason for their fasting. A recommended read for schools where there are children observing the Ramadan fast.
Night of the moon by Hena Khan is the story about Yasmeen, a 7-year-old Pakistani-American girl celebrating the lunar Muslim holidays, Ramadan and Eid-al-Fitr. Her family participates in holiday customs, fasting by day and eating special meals at night, sharing food with the poor, visiting a mosque, and painting hands with henna. Through dialogue with Yasmeen and various family members and friends the reader learns the origins of the holiday and many of the customs. An author's note at the back of the book and a glossary provide further explanations. Hena Khan has brilliantly provided information about the cultural traditions of Ramadan and Eid along with Yasmeen's love of her family and growing understanding of her role in the outside world. The illustrations in this book are simply beautiful that incorporates a lot of Islamic art. A highly recommended book for Elementary school. Published in 2008, ISBN13: 9780811860628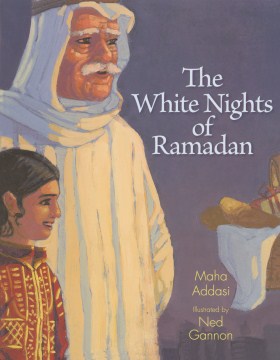 Maha Addasi's picture book, The White nights of Ramadan, centred around Girgian, explains to elementary school children, Ramadan and some of the traditions and customs surrounding it. Mid-Ramadan is a special time for families in the Arabian Gulf. These middle days are known as "the three whites," because they include the day of the full moon, the day before, and the day after. It's a time when children, dressed in traditional clothes, go from house to house collecting treats from their neighbors. When Noor, who lives in Kuwait, sees the full moon rising, signalling the coming of Girgian, she and her brothers prepare for the fun. Noor's explanation of what she does around the holiday and a portrayal of her feelings makes the story so much more personal, yet the facts are clear. An engaging tale and beautiful illustrations by Ned Gannon, truly capture the magic of the "white nights". A highly recommend addition to books about Ramadan! Published in 2008, ISBN13: 9781590785232
Hannah and the Ramadan Gift by Qasim Rashid, Illustrated by Aaliya Jaleel
Eight year old Hannah wants to fast for Ramadan but her family says she is too young to fast from dawn to sunset through the month of Ramadan. Dada Jaan, her grandfather, tells her she can celebrate Ramadan "by saving the world." He explains that Ramadan is a reminder to Muslims to help those in need and helping neighbors is worth the world. Grandfather and granddaughter visit the soup kitchen and donate clothes to a homeless shelter. Hannah helps her friends at school, sometimes when they see and thank her but also when they don't. And she plays with a new girl in the neighborhood. When Eid comes around at the end of the month, Hannah isn't sure if she's been successful. But assurance from Dada Jaan and a celebration with her religious and ethnically diverse community make it the best Eid ever. In her independent actions in school and at home, the girl finds that helping is more difficult than it seems. Hannah wonders what, if any, impact her actions have made and whether it is enough. Hannah's story tells children about the character-building aspects of Ramadan and of Islam in general. In Hannah and the Ramadan gift, Qasim Rashid presents a story full of warmth and heart about the observance of Ramadan and the power of good deeds. ISBN13: 9780593114667. A perfect Eid story for Grades 1-5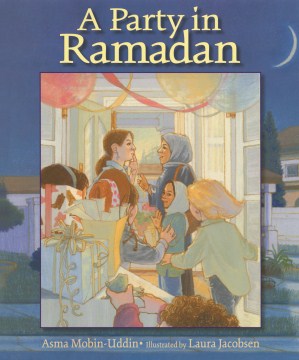 Leena Ahmad has a dilemma. She has been invited by her friend to a pony party just on the day she will be doing her first Ramamdan fast. She makes the choice of doing both. At the party, Leena proceeds to the swing while the girls enjoy lemonade, knowing that she can't take a drink, she comforts herself with the thought of cool lemonade when she breaks her fast. Leena's friends are supportive of her and one of them even offers to skip eating cake. Leena assures her that is not necessary. Her self restraint faces a big test when the girls go inside to eat the chocolate cake and now she begins to question her decision. "Why did God have to make it so hard?" she asks. Tired, hungry, and thirsty, she falls asleep on the couch and awakes to find herself in her own home. While she is breaking her fast with cool lemonade and delicious food unexpected guests arrive. Julia's family and Amy's mom arrive bearing chocolate cake, and together they share the iftar dinner, a wonderful example of community spirit. A beautiful tale of a child grasping her identity yet being able to embrace the differences around her. A party in Ramadan written by Asma Mobin-Uddin is a good resource for teaching about choices, sharing, and empathy. This is a story about a girl making her choices and taking pride at her accomplishment, although it was very difficult for her to do so. ISBN13: 9781590786048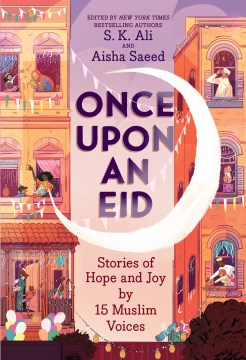 Once upon an eid, a remarkable collection of short stories edited by S.K.Ali and Aisha Saeed, opens with the story of a Black American Muslim girl, Hawa, whose mother is from Philadelphia while her father is Mandinka from Guniea, nervous about spending Eid-ul-Fitr with her father's side of the family in New York. Despite what her father thought, she didn't feel like the 'perfect Mandinka girl' at all. It was about accepting all the different parts of herself navigate language barriers and become closer to family.
There's a story of a Caribbean and Algerian girl who is anxious to start wearing a hijab. She decided that she didn't mind how other people reacted to her hijab because it was how she wanted to express her faith and it felt right for her.
One story focuses on a convert to Islam celebrating her first Eid and struggling with both adjusting and the poverty her family lives in compared to the more well off girls in her mosque.
And then we have Kareem who buys himself a new bike, and eventually learns how to embody the meaning of his own name: "generous." – "Anytime you share something you love, it comes right back to you like a boomerang. You never lose it. Just wait and see."
A heartfelt story was about celebrating Eid at a refugee camp in Greece. Bassem felt like their prayers were going unanswered and they had been forgotten. However, with everyone banding together they all managed to pull together a joyful, hopeful Eid for everyone despite their circumstances. It was really thought provoking and presented the many hardships and sorrows that refugees face.
The traditions depicted in the short stories may vary as the writers are from various regions and backgrounds but the themes of family, community, and faith are present in all the stories. Whether making or buying special foods—Eid brownies, doughnuts, lontong—or taking care of younger siblings, the characters with their kindness try to make Eid special for others. Touching the lives of Asian, Black, West African, Middle Eastern Muslims, converted Muslims, Sunni and Shia Muslim and also covering different socio-economic backgrounds, each story is full of joy, hope, community feeling, gratitude. This uplifting anthology – where most of the young protagonists live in majority non-Muslim countries – is one that makes us understand the uniqueness of different cultures and should not be read only in time for Eid but year-round to address issues like racism and prejudice. Highly recommended "Stories of Hope and Joy by 15 Muslim voices" for Middle School and YA. Published in 2020, ISBN13: 9781419740831