Seven more days to go the until the curtain will be lifted on the Games of the much anticipated XXXII Olympiad. Seven more days to the long awaited Summer Games which has been postponed a full year due to the pandemic. Seven more days for an Olympics like not other. The Games, historically have been cancelled in the past, but never postponed. It surely has been a great upheaval task to make it happen amidst the pandemic, and now let's cheer the organizers, and the athletes who are trying to give their best in spite of the odds. As we get immersed in the excitement of the games we could also find some time to read some books about the Olympics, the spirit and sportsmanship that is such an integral part of the motto: "Citius, Altius, Fortius" ("Faster, Higher, Stronger") and even the athletes that have made this event one of the biggest in the world! Take a look at some these books here to get you started!!!!
While the Olympics is on and children want to know more about the sports, this witty, illustrated explanation of all the world's most popular sports will come in very handy.Sports are fantastic fun by Ole Konnecke explains the rules of each sport, suggests what is most enjoyable or difficult about it, and keeps an upbeat, positive tone throughout the book.
The author emphasizes is that sports can sometimes put off the less competitive child, but the focus is on being active, and the book includes ballet, slacklining and other physical activities not commonly thought of under the heading of "sports".
To get into the Olympic spirit, let's begin with this comical book by Mo Farah – Ready Steady Mo! This rhyming, action-packed colorful picture book comes from the two times Olympic gold-medal winner and father of four, Mo Farah, bestselling author Kes Gray and illustrator Marta Kissi. This book will definitely encourage some running while you read together with your children.
"Run in a straight line, Run round some bends, Run with your family, Run with your friends"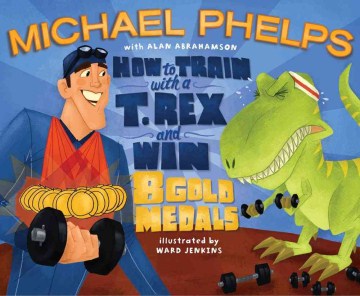 From the Publisher: What does it take to win eight gold medals?
Napping away three summer vacations?
Eating enough broccoli to fill the back of a pickup truck?
Swimming the length of the Great Wall of China three times?
Swimming champion Michael Phelps, in this fun picture book, How to train with a T.Rex and win 8 Gold Medals, co-authors with Alan Abrahamson to help children understand the training schedule that allowed him to accomplish the first-of-its-kind feat of winning eight Olympic gold medals. Not a book that I would give five stars, but this book teaches kids the significance and power of training to be successful in the Olympics. It's more of a first-person "narrative" with cartoonish illustrations by Ward Jenkins, where Phelps describes the kind of training he did to win his 8 Olympic gold medals.He swam 60,000 every week = 12,480 miles in 6 years – that's the same as 183,040 trips around the bases or, swimming the Great Wall of China 3 times. Recommended for 5-10 years old or anyone who wants to train like Phelps.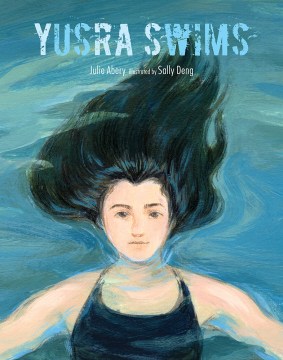 Just a girl
With a dream.
Olympic Games
Swimming team.
Unrest spreads,
Conflict strains.
Staying focused,
Yusra trains.
Yusra Swims is a "biography in rhyme" by Julie Abrey, tells the story of Olympic swimmer and Syrian refugee Yusra Mardini. Beautifully illustrated by Sally Deng, the book recounts the true story of of a Syrian girl who had to escape war in her hometown via a dangerous route through Turkey and the Greek islands, eventually ending up in Berlin and fulfilling her dream of competing at the Olympics. Here's a book that reminds children that determination can fulfil dreams. A real life story about courage and confidence.
Following up on Yusra Swims I would like to share with you her biography Butterfly: From Refugee to Olympian – My Story of Rescue, Hope, and Triumph. Written by Yusra Mardini, is the inspiring story of how one woman saved fellow refugees from drowning–and how she went on to become an Olympic swimmer when she competed in 2016 on the Refugee Olympic Team in Rio de Janeiro.
Butterfly tells her story, from Syria to the Olympics to her current work with the UN as a Goodwill Ambassador. Mardini is eager to tell her story in the hopes that readers will remember that refugees are ordinary people in extraordinary circumstances, chased from their homes by a devastating war. In today's political climate, this story is guaranteed to inspire and educate readers from every background.
Paperback, 288 pages. Originally published under the title "Butterfly" by Pan MacMillanOriginal in 2018.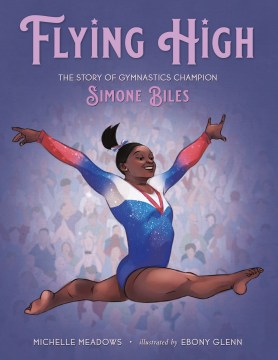 "A lyrical picture book biography of Simone Biles, gymnastics champion & Olympic superstar." From the Publisher. Simone Biles grew up in foster care as a young child. When she was six years old, her grandparents, Ron and Nellie Biles adopted Simone and her sister Adria. At the same time Simone was also introduced to gymnastics. Her passion, fueled by her remarkable talent, sacrifice, and the undying support of her family led Simon Biles to "Fly(ing) High". Michelle Meadows narrates the story of one of the world's greatest gymnasts, Olympic champion – Simon BIles and her struggles. How hard Biles worked, pushing past crushing defeat and leaving high school in order to homeschool, to rise into the Final Five of Team USA at the Olympics. A highly recommended book, for Grades 1-5, beautifully illustrated by Ebony Glenn.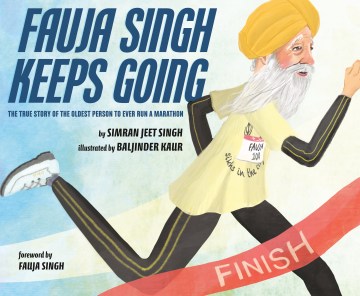 Not a Olympic hero or competing in the Games, Fauja Singh's story is about a determined man who at the age of eighty-one decided to run his first marathon. Fauja Singh keeps going is the true story of this amazing person who overcame obstacles and with his unfailing courage, broke world records to become the first one hundred-year old to run a marathon. With exuberant text by Simran Jeet Singh and beautiful illustrations by Baljinder Kaur, the true story of Fauja Singh reminds us that it's both where we start and how we finish that make our journeys unforgettable.
Wilma Unlimited: How Wilma Rudolph Became the World's Fastest Woman by Kathleen Krull is Wilma Rudolph's story of triumph, of hope, and of perseverance – the perfect story to teach kids what the Olympics are all about.
Wilma Rudolph was five years old, polio had paralyzed her left leg. Despite suffering other illnesses as she recovered, Wilma taught herself to walk without a brace by the time she was 12. Then she vowed, she'd run — and she was fast. She ran all the way to the Olympics, where she became the first American woman to earn three gold medals in a single Olympiad — and became known as the fastest woman in the world. This vibrant and inspirational picture book , beautifully illustrated by David Diaz celebrates the courage and determination of this trailblazing athlete.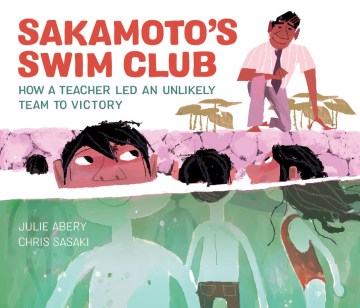 Sakamoto's Swim Club: How a Teacher Led an Unlikely Team to Victory is a children's picture book written by Julie Abery and illustrated by Chris Sasaki. This short, brightly illustrated picture book tells the story of ­Hawaiian swim coach Soichi Sakamoto, a science teacher who trains kids who are playing in irrigation ditches how to swim, eventually leading them to the 1948 ­London Olympics. Sakamato's belief in the vulnerable children of Maui is inspirational and it is a story of hope, dedication, and perseverance. Highly recommended for ages 5-10.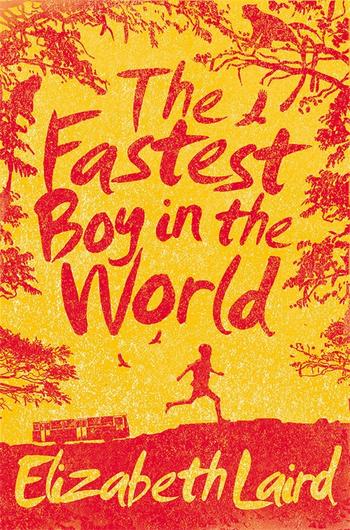 Eleven-year-old Solomon loves to run! The great athletes of the Ethiopian national team are his heroes and he dreams that one day he will be a gold-medal-winning athlete like them, in spite of his ragged shorts and bare feet. When his grandfather announces that he's going to take Solomon to Addis Ababa, Solomon cannot believe his ears. A trip to the capital? It's unfathomable. Solomon's joy is increased when he realizes that the Ethiopian running team will be doing a victory parade through the city that day. Maybe he'll get a glimpse of Haile Gebrselassie or Derartu Tulu?!
But Solomon's grandfather has other plans. As Solomon follows him through the big, overwhelming streets, he learns something he cannot believe. The strict old man is a war hero who once risked his life to save a friend and has been in hiding ever since. When grandfather collapses, Solomon knows that getting help from his village is up to him. It's a twenty-mile run from the city to home, and grandfather's life hangs in the balance. Can the small bare-footed runner with the big heart do it?
A short novel that manages to incorporate running, the Olympics, Ethiopian history, poverty, and a family mystery in less than 200 pages. Suitable for 6-10 years old.